From the Memorial Tablet in the Mount Freedom Jewish Center:

IN CHERISHED MEMORY
OF
PRIVATE SIDNEY I. HEISTEIN
COMPANY B - 15th INFANTRY REGIMENT
KILLED IN ACTION IN ITALY
OCTOBER 18, 1943

HE FOUGHT TO UPHOLD HIS COUNTRY'S
MOST SACRED PRINCIPLES. AND HIS LIFE'S BLOOD
DRENCHING SOME FOREIGN BATTLE GROUND
WAS SHED SO THAT WE MIGHT WORSHIP AS FREE
MEN AND WOMEN.
LET US NOT SOON FORGET SACRIFICES SUCH
AS HIS.

HERBERT H. HIRSCHHORN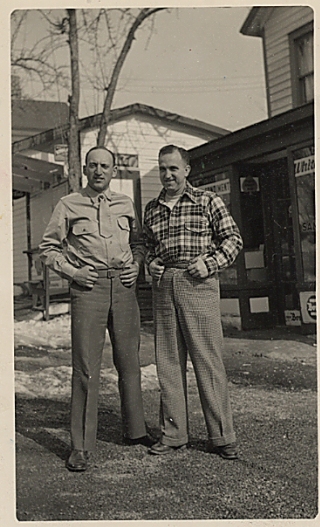 Sidney Heistein (left) with cousin Charles Bernstein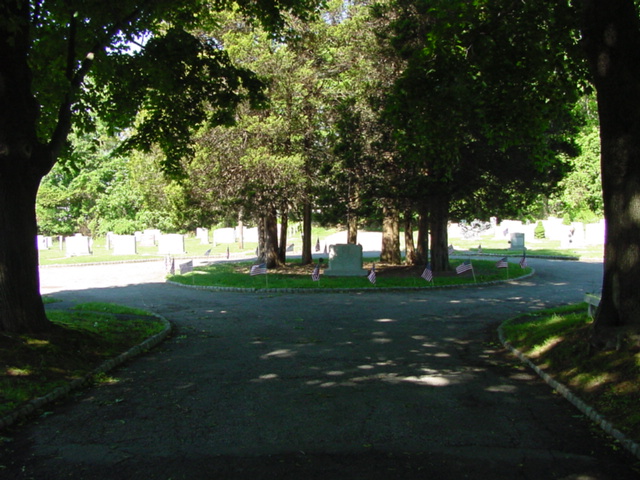 Photos taken on Memorial Day, 2005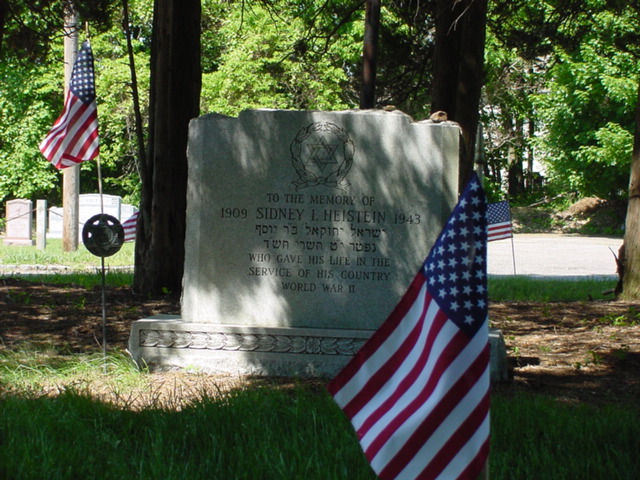 Cousin Herbert's words remain as powerful today as when that tablet was first affixed to the Synagogue wall. As a child I always enjoyed the Mount Freedom, NJ Memorial Day parades high up in the grandstand. I remember the bunting, the flags and the music but only later did I understand why uncle Jack, cousin Morris and all the Heisteins of Mt. Freedom occupied that place of honor. They were the survivors of the only resident of that New Jersey resort community to lose his life in World War II.
Sidney Heistein was killed by artillery fire, along with eight other soldiers, on Hill 446, overlooking the town of Roccaromana. Sidney was buried in the Military Cemetery at Avellino until 1949. His grave was marked with a Star of David, one of the few interspersed in row after row of white crosses. An American flag flew on it's staff high above them. They were at peace, their brothers-in-arms would continue the fight along the Volturno.
At the request of the family, his body was returned to Mt. Freedom and interred in the Mt. Freedom Jewish Center Cemetery in 1950. These photos were taken there. More than one relative has told me that Sidney Heistein had a deep respect for life, he would sidestep to avoid the killing of an insect in his path. In October of 1942, he selflessly answered the call of his country and was assigned to one of the most battle-tested units in American military history. The legacy of this American Soldier and the bloody campaign of the Volturno is a free and democratic America and a free and democratic Italy. The legacy of this Jew is that his sacrifice, along with so many others, ended Nazi plans for world domination and with them, their conduct of the "Final Solution." I, as well as every Jew alive today, owe our lives to victors of World War II. For this reason, Yisroel Yechezkel ben Yosef (Z"L) will be forever enshrined as a Martyr of Israel.
Research Material:
My research paper on Sidney Heistein (PDF Document)

The Last Battle of PVT Sidney I. Heistein A photo essay of my 2013 visit to the place where he fell.
15INF CO B Morning Reports for Oct, 1943
Movement of Company B 14-18 Oct 1943
Google photo of Hill 446 and Roccaromana